~Day 1~
Wicked Treasures is one of the many series written by Donna Grant.
 Donna Grant is the bestselling, award winning author of more than twenty-five novels spanning multiple genres of romance. She was born and raised in Texas but loves to travel. Her adventures have taken her throughout the United States as well as to Jamaica, Mexico, and Scotland. Growing up on the Texas/Louisiana border, Donna's Cajun side of the family taught her the "spicy" side of life while her Texas roots gave her two-steppin' and bareback riding.  Her childhood dream was to become a professional ballet dancer and study under the amazing Mikhail Baryshnikov. Though she never got to meet Baryshnikov, she did make it to New York City and performed in the Macy's Thanksgiving Day Parade. Later, Donna's love of the romance genre and the constant stories running through her head prompted her to sit down and write her first book. Once that book was completed, there was no turning back.
Donna sold her first book in November 2005 while displaced from Hurricane Rita, a storm that destroyed portions of the Texas Gulf Coast. Since then, Donna has sold novels and novellas to both electronic and print publishers. Her books include several complete series such as Druids Glen, The Shields, Royal Chronicles, Sisters of Magic, Dark Sword, Dark Warriors, and her new series, Dark Kings. Despite the deadlines and her voracious reading, Donna still manages to keep up with her two young children, four cats, three fish, and one long haired Chihuahua. She's blessed with a proud, supportive husband who loves to read and travel as much as she does.
Her series – Wicked Treasures – is one of my favorite. Actully the first book – Seized By Passion – is the re-issued version of Mesmerized. So if you have read Mesmerized then you know what I'm talking about.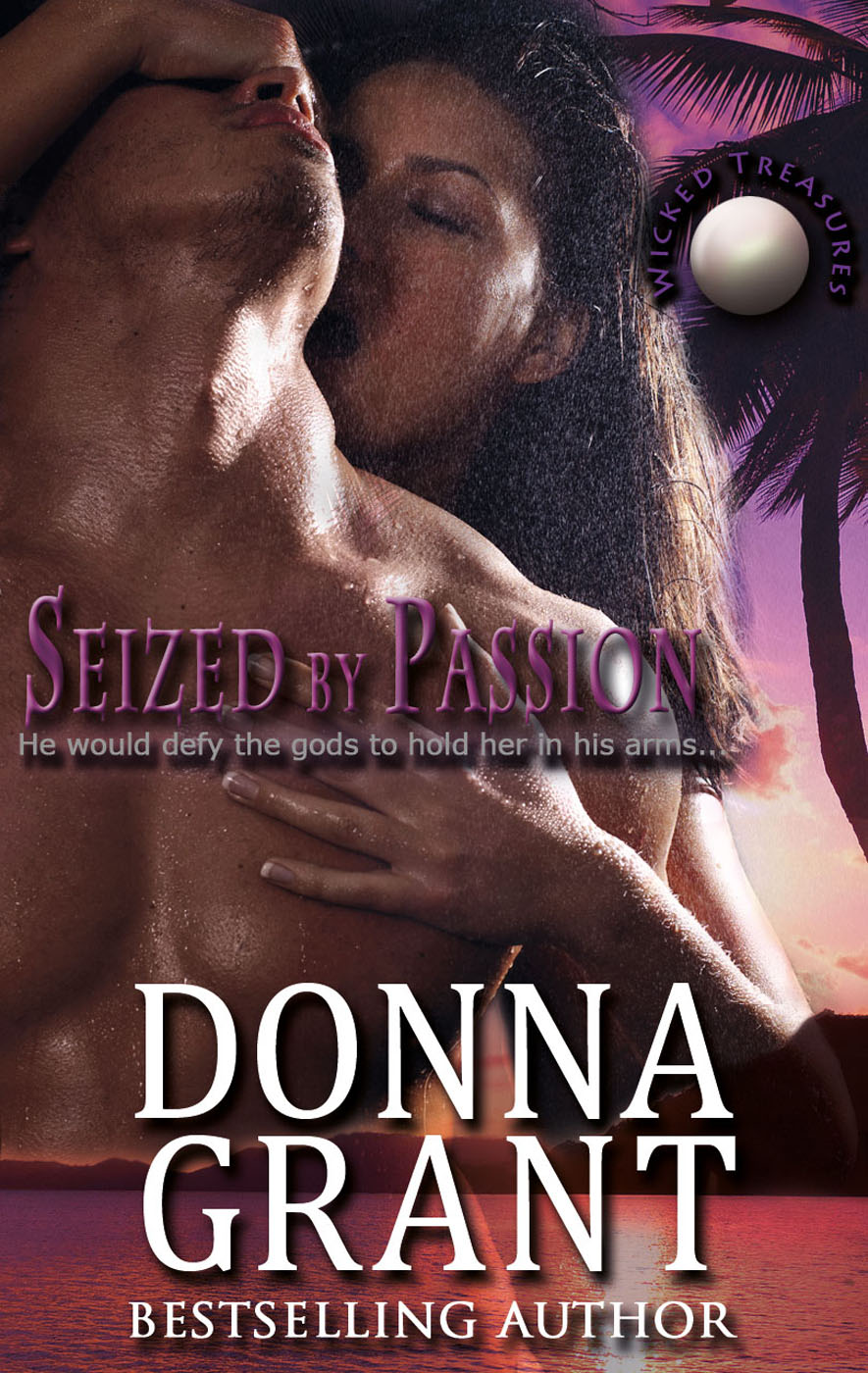 This is the first book in the series.
Forced to take drastic measures to keep his people from dying out, Achates risks his life to save a woman only to learn she's the one deemed strong enough to rule with him by Poseidon himself.
It isn't just her mind – but her body – Achates stirs when Livia wakes in his arms.  She's unsure of her place in this new world she learns is the home she was stolen from. It's with Achates strong heart, gentle hands, and trust that she begins to understand what her true role is.  But will it be in time to stop the destruction of their world?
**Note: This is a re-issue of MESMERIZED retitled to fit the WICKED TREASURES series.
When I first read this book I said for a few minutes in my chair thinking "Wow! This is an amazing read". And how could I not love it. It had everything I like in a book. A hot male lead, an innocent female character. And of course he is the prince on a white horse. I love the idea behind the story – a woman is being  sacrifed to Poseidon. This was a story in which the author succeeds to capter the reader's interest form the very beginning and keep it until the very end. I will admit that I'm a love romance and erotic scenece. And this book had both. And of course the thing that made me smile from joy was that Achates – the main here – is not only her saviour, but her betrothed.
I give this book 5 / 5 stars
You can buy this book of the following sites:
Follow Donna Grant: